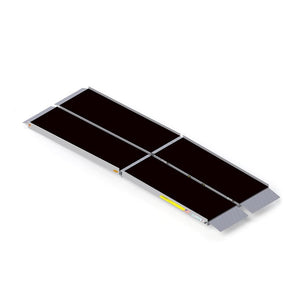 TRIFOLD RAMP ADVANTAGE SERIES 10'
PORTABLE RAMP: This ramp has a unique 3-fold design for portability when a longer ramp length is needed. Designed to be used & carried as one unit, or quickly separated into 2 individual sections.

EASY SETUP: Ideal for 1-3 steps, with self-adjusting bottom transition plates for easy conversion from ramp to ground. Folding size: 60.75" x 15" x 11.5". Weight: 30 lbs. per section (2). Capacity: 800 lbs.

SAFE & SLIP RESISTANT: This folding 10' ramp offers an applied slip-resistant texture that allows mobility devices to retain traction in all weather conditions. Includes a built-in carrying handle.

INCREASE MOBILITY & SECURITY: Mobility solutions help you or a loved one regain confidence, freedom, & the ability to safely & independently access home or vehicle with less stress & more security.