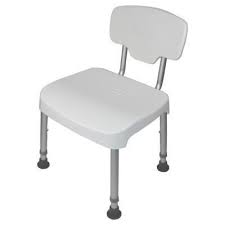 The Great Shower Chair - With Back
Invacare has numerous equipments and medical tools that are made to help people with disabilities and impairments out in their daily life. Their transporting chairs and shower equipment can make life a lot easier for people who cannot move around with ease. The Invacare great shower chair is a continuation of the standard that the manufacturers have set and offers just the perfect comfort to anyone bathing on it.
The chair comes with smooth edges and a comfortable back rest. Your senior or disabled loved one can now easily lean back and have a comfortable shower while seated. The chair comes with a tool free assembly and can conveniently be used whenever and wherever you want.
The chair has adjustable height, which can be adjusted on the basis of the person taking the bath. The backrest is convenient, but can be taken off at your own will. You can take it off or put it back on based on what you want. The Invacare great shower chair can also be easily stored due to the removable backrest.
Highlighted Features
The product comes with a weight capacity of 500 lbs
The chair has wide rubber tips on each leg to ensure balance
Tool free assembly that is easy to manage
Available with or without a backrest
Height is adjustable